Reports For 29th May 2021
Hatfield & Crusaders Cricket Club enjoyed a fine weekend, as they completed a clean sweep of four victories from four matches. After a severely rain-affected start to the season, a weekend without cancellations or interruptions felt like a triumph in itself.
The 1st XI won for the first time this season, in a close contest with Cheshunt Rosedale. Skipper Ben Clark won a crucial toss and opted to bowl first on a damp wicket, which made life difficult for the batsmen throughout.
Aman Sofat (2/16) struck first, as he followed a simple caught and bowled with a magnificent delivery which trimmed the top of off stump the very next ball. After Ian Golder claimed the other opener cheaply - thanks to a fine catch from Clark running back from slip - Cheshunt were struggling at 5/3 after seven overs. This was part of a remarkable spell from Golder, who exploited the conditions perfectly to bowl eight maidens in a 10-over stint, which yielded just four runs.
There was no let-up from the first change bowlers, as Clark (3/33) and Gareth Wynne (3/6) combined wicket-taking deliveries with consistent accuracy. Wicketkeeper James Davies more than played his part too, with a stunning catch diving low to his right. Cheshunt Rosedale were 38/8 when drinks were taken, and only some lusty blows from the tail saw them reach 61 all out. Wynne joined Golder in claiming particularly remarkable figures, as he bowled 5.3 economical overs.
Despite having a comparatively low total to chase, Hatfield & Crusaders did not find the going easy either. They themselves slipped to 11/4 after 12 overs following two excellent opening spells from Cheshunt, with Sritharan's 3/12 the standout performance. Heath Bond (18) was the only player who reached double figures, and looked to have settled the nerves in a brisk partnership with Clark. However, Bond's dismissal provoked a mini-collapse, and with the score reading 40/7, Cheshunt were right back in the contest. Fortunately for Hatfield & Crusaders, one more substantial partnership was enough, and their target was ultimately reached with two wickets in hand.
The 2nd XI won their trip to Allenburys & County Hall II in a much more comfortable fashion, as an impressive all-round performance led to a seven-wicket win. Allenburys opted for first use of a good wicket, and reached 82/2, despite good opening spells from Andy Foster (3/26) and Rory Gethin-Golder (1/19). The middle-order fell cheaply, however, as Allenburys slipped to 105/7. Wickets were shared between the rest of the attack, as Urvish Mistry (2/22), Alan Jakes (1/44) and Tony Jakes (1/39) all contributed. Tony Jakes was particularly unlucky, as a perfect field placing saw the batsman pick out Gethin-Golder on the boundary, only for the chance to go down. A useful, unbeaten 44 from Barnaby saw Allenburys finish 150/8 from their allotted overs.
Hatfield & Crusaders started well in reply, as Lewin Wynne (17) and Keven Whitehead put on 34 for the first wicket. After Wynne's departure, Rory Faraday (41) produced a controlled innings to break the back of the target, striking seven fours in the process, before he was caught. Whitehead continued undeterred - only slightly inconvenienced by an injury which caused a runner to be required - and eventually fell for a fine 54 with the winning line in sight. The 2nd XI remain undefeated after four league games, and are third place in Division 6B.
The 3rd XI also produced a fine display, as they visited Letchworth Garden City V. The side made the most of a good pitch after skipper Barry Phillips won the toss. There were several useful contributions, from Martin Webster (17), Keyur Mistry (25), Nikhil Jonnalagadda (29) and Phillips (27), as the side reached 150 with five overs remaining. That prelude gave no sign of the extraordinary innings that was to follow, however, as Hasitha Colobage smashed a remarkable half-century from number 10. He launched two sixes and six fours in an astonishing display which saw Hatfield & Crusaders reach an imposing 210/9 from their 40 overs.
That target was far out of reach for Letchworth, who were bowled out for 80 in reply. All the bowlers contributed, with Prasanna Jadu (1/10), Jonnalagadda (2/14), Don Purohit (2/3), Arun Bonam (1/17) and Rohan Vodapally (4/22) in the wickets. The 3rd XI sit joint top of their league, with two victories from two completed fixtures.
The Sunday XI made it four wins from four against a talented and youthful Wheathampstead side. Neither side were obviously in the ascendency throughout a close contest, before Hatfield & Crusaders sealed the win from the final ball of the last over, with just one wicket remaining. Specialist finisher Gareth Wynne deserves special mention, as he fully merited his promotion to number 9 with a characteristically composed 15 not out, before Foster pulled the vital boundary over square leg.
Reports For 22nd May 2021
Hatfield & Crusaders made the best of yet another weekend of inclement weather at the start of the Herts Cricket League season. Although the 1st XI's trip to Bishop Stortford II was a washout, the 2nd XI managed to complete half a match against Potters Bar III, while the 3rd XI miraculously enjoyed a thrilling finish against Old Owens III.
Thanks to the club's new covers, the first innings of the 2nd XI fixture at Ascots Lane was salvaged, before a downpour ended a promising contest just after the halfway point. Potters Bar unsurprisingly elected to field given the threat of further interruptions, and struck early to remove both openers cheaply.
Deepak Hasiza led the counter-attack, pouncing on the rare loose deliveries to contribute a quickfire 23, before he was bowled by the disciplined Lloyd. Shortly after his departure, Hatfield & Crusaders were teetering at 56/6, with little hope of setting a competitive total. However Ben Pulham produced some obdurate resistance in the face of some excellent bowling, and ensured that the side were able to make full use of their allocation of overs, despite the challenging conditions.
Pulham also gave a platform for others to chip in with useful cameos to keep up the scoring rate. Urvish Mistry did exactly that, adding a stylish 20 at almost a run a ball, before Towfiq Mannan (14) and Rory Gethin-Golder (15*) provided some late fireworks. Gethin-Golder swatted a huge six in his ten deliveries at the crease, as part of an invaluable 25-run partnership for the last wicket with the defiant Pulham, who endured for almost 35 overs to make 24 not out. A score of 152/9 after 50 hard-fought overs seemed an above par score, especially given the saturated outfield.
It was unfortunate that such a competitive game could not reach its conclusion, as heavy rain between innings delayed the start of Potters Bar's reply, and the game was abandoned after only three more overs were bowled. Gethin-Golder claimed the solitary wicket for Hatfield & Crusaders before the game reached its sodden end.
The 3rd XI were finally able to get their season underway, as they hosted Old Owens III at Newgate Street. Old Owens reached 156/6 in their innings, after the match was shortened to 38 overs a side by the weather. Alan Jakes claimed 1/17 from his seven overs, including the wicket of Old Owens' opener for nought, before Keyur Mistry (3/23) and Rohan Vodapally (2/38) kept the middle order in check.
Hatfield & Crusaders made a strong start in reply, reaching 65/2, largely thanks to 34 from Matt Welch and 16 from Raj Jakkapaggol. A slight collapse followed their departures, however, as Hatfield & Crusaders slipped to 69/5 in the 24th over.
Despite the climbing required run rate, Hatfield & Crusaders stayed in the game with a quickfire 24 from Vodapally, before Anthony D'Rozario (33 not out) struck another boundary from the final ball of the last over to see the team home with just two wickets and five balls remaining. After a severely truncated start to the season, this proved a very satisfying victory for the 3rd XI, who currently sit joint top of Herts Cricket League Regional Division B East.
Reports For 15th May 2021
Hatfield & Crusaders enjoyed a mixed start to the Herts Cricket League season, as a soggy opening weekend featured an emphatic defeat and a comfortable victory.
After the first round of fixtures were entirely lost to the weather, the 1st XI won what looked to be a potentially crucial toss at Northwood Town, and elected to bowl first on a green, muddy pitch in persistent rain. Northwood Town defied the tricky conditions and an impressive opening spell from Sam Edge, as both openers reached 30 in a partnership worth 67.
Northwood Town took full advantage of some lapses in the field, and had reached 97/1 before Hatfield & Crusaders mounted a comeback. First change bowlers Ian Golder (0/37) and Gareth Wynne (3/15) pegged back the run rate, before Wynne struck three times in quick succession – aided by a fine catch from Billy Bigley – to drag Hatfield & Crusaders into the game. Wynne bowled his 10 overs unchanged, and hardly bowled a loose ball in a disciplined and economic spell.
After some good fortune in claiming a caught and bowled from a full toss in his first over, skipper Ben Clark bowled with impeccable accuracy to knock over Northwood Town's middle and lower order. Hatfield & Crusaders took the final nine wickets for 44 runs, and they looked to have bowled themselves into the contest. Clark finished with 5/13 from nine overs in addition to three catches in a remarkable display. Aman Sofat (2/35) chipped in with two wickets as he came back strongly in his second spell.
Hatfield & Crusaders were confident of chasing down the target, despite the challenging conditions. That confidence proved to be unfounded, as the side lost early wickets and were unable to recover. Only the skipper reached double figures, as Hatfield & Crusaders slipped to 41/6 before ultimately being bowled out for 59. Clark was the last man out for 20, and was at least able to salvage some pride.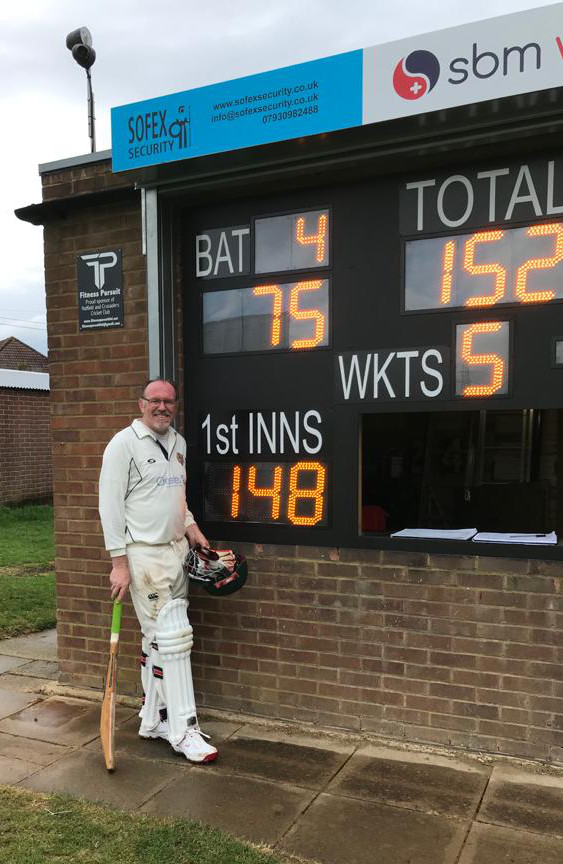 The 2nd XI produced a much better performance against a strong Potten End side. With the quality of the pitch preserved by the club's new covers at Ascots Lane, Potten End had the confidence to bat first on a good surface. That approach was vindicated as they got off to a flyer, reaching 50 without loss inside the first 10 overs. Tawfiq Mannan (3/41) led the fightback, claiming three quick wickets including numbers two, three and four. Urvish Mistry (2/35) removed the other opener to keep up the pressure.
Deepak Hasiza (1/18) and Juvin James (3/10) also bowled economical spells to ensure there was no let-up for Potten End's middle and lower order. Hatfield & Crusaders fought back well to dismiss Potten End for 148, and leave a chaseable total.
That chase got off to a shaky start, as both openers fell early to leave Hatfield & Crusaders 16/2 in the seventh over. Deepak Hasiza and Heath Bond steadied the ship, and combined for a 69-run partnership for the third wicket to break the back of the total. Hasiza – promoted to number three – produced a composed knock before he was bowled for 31. Bond progressed undeterred, however, and struck 12 fours in a typically belligerent innings.
Despite a slight middle-order wobble, which saw three wickets fall for one run, Bond and Keven Whitehead ensured that there were no further alarms, and Hatfield & Crusaders secured a promising win with five wickets to spare. Whitehead was unbeaten on 16, with Bond contributing virtually half the total, with 75 not out.
The 3rd XI's short trip to Hatfield Hyde was cancelled, due to rain. With a strong side selected for this fixture, the team will be eager to get their season underway soon.
Reports For 1st / 2nd May 2021
Hatfield & Crusaders enjoyed another fruitful weekend, in the final week of pre-season before the league campaign begins in earnest.
In a keenly contested inter-club friendly on Saturday, Team Foster defeated Team Clark, despite a valiant run chase in the second innings. There were notable contributions for Team Foster from Aman Sofat (44 and 2/22), Ben Gethin-Golder (who continued his fine early-season form with 40), Deepak Hasiza (37 and 3/38), with able support from Keven Whitehead (25) and James Davis (21), resulting in a competitive total of 216 from their 50 overs. Skipper Ben Clark (3/39) and Gareth Wynne (2/30) also put in fine bowling displays.
Team Clark made a cautious start in reply, before Ian Golder (3/26) struck three times in quick succession. There was no let up from the other end, as Sofat continued to bowl with great control. Team Clark re-built well, through some belligerent hitting from Sam Edge (46) and a determined innings from Mark Collins, who was eventually forced to retire hurt on 71. Once Sofat had return to break this partnership, however, Team Foster sealed the win by 36 runs.
Hatfield & Crusaders were also victorious against Cockfosters, in a thrilling contest which was in the balance until the penultimate over of the second innings. Cockfosters made an excellent start with the bat, with both openers reaching 40 before Ian Golder (3/18) removed both in an excellent spell. Gareth Wynne claimed the remarkable figures of 3/7 from five overs to ensure the middle order was also pegged back, before Alan Jakes (2/11) helped to restrict Cockfosters to a total of 188 all out.
In-form Sukhi Grewal (35) got Hatfield & Crusaders off to a fast start, contributing the majority of the runs before he was stumped with the score at 41/2. Despite a slight middle order wobble, which saw Hatfield & Crusaders struggling at 65/4, skipper Clark produced a typically composed innings of 53 not out to anchor the chase alongside Golder (30 not out). Their quickfire, unbroken partnership saw Hatfield & Crusaders reach their target with four wickets and seven deliveries to spare.
After an encouraging pre-season, Hatfield & Crusaders can look forward to their league campaigns in Herts Cricket League Division 4A, 6B and Regional Division B East respectively, with a great deal of optimism. After significant investment in the club's facilities in the last 12 months, the club can be proud of its set-up at Ascots Lane, with a new electronic scoreboard and covers supplementing the dedicated work from club members to maintain one of the most aesthetically pleasing grounds in the division. All new playing and social members are welcome at Hatfield & Crusaders, with more information available at the club's website and through its social media channels.
Reports For 24th / 25th April 2021
Hatfield & Crusaders made a positive start to their 2021 season, with two impressive wins in their first round of pre-season fixtures.
Ben Gethin-Golder starred with the bat against Aldenham on Saturday, before Aman Sofat claimed a superb hat trick to seal a comfortable victory.
Having elected to bat in glorious April weather, Hatfield amp; Crusaders lost two early wickets, as both openers fell with just five runs on the board. Gethin-Golder led the recovery, and combined for a 105-run partnership with Mark Collins, who added 31 from number three. Gethin-Golder unfurled a string of impressive drives through the off-side as he compiled an excellent 95, including 15 fours and a six. This knock was only ended after a calamitous error from his batting partner, resulting in a run out.
Two late cameos from skipper Ben Clark (18), and 'keeper Yugal Kalaskar (16*) saw Hatfield & Crusaders to a total of 198-8 from their 40 overs.
Sam Edge (2-27) set the tone with the ball with an accurate and aggressive opening spell, which yielded the wickets of both openers. Aldenham reached 50 without further losses, and counter-attacked with a couple of flamboyant boundaries. Aman Sofat was similarly disciplined at the other end, and fully deserved the hat trick he achieved with the final three balls of his spell. That the first five wickets to fall were all clean bowled was testament to the quality of the opening spells.
There was no let up from the first change bowlers, either, as Billy Bigley claimed 2-16 before Gareth Wynne (2-7) sealed a 117-run victory with two wickets in his seventh over.
Hatfield & Crusaders were also victorious on Sunday, in a much closer contest with Ware. Sukhi Grewal was the star of the show on this occasion, as his excellent unbeaten hundred provided the backbone of a total of 182-9 from 40 overs. Grewal struck a remarkable 19 boundaries in a total of 110 not out. Skipper Andy Foster contributed the other notable score, with 22.
Ware put up an excellent fight in their run chase, taking the game into the final over, and ultimately falling just four runs short. Wickets were shared among the bowlers with Tawfiq
Mannan (3-22) and Foster (2-35) leading the way.
The club celebrated the welcome return of the recreational game and are looking forward to the imminent start of the league season.