Reports For 17th August 2019
Hatfield & Crusaders secured a priceless victory over Knebworth Park II, in a thrilling contest, to maintain their promotion push as the season reaches its denouement.
Having bowled their hosts out cheaply in the return fixture at Ascots Lane, Hatfield & Crusaders had no hesitation in choosing to bowl first.
A repeat performance seemed to be on the cards, as Knebworth Park were reduced to 27/4, thanks to excellent opening spells from Ian Golder (2/9, including four maidens in a miserly ten-over burst) and Rory Golder (3/45). Billy Bigley (0/19 from eight overs) kept up the pressure admirably, as Knebworth Park found scoring difficult.
A notable recovery followed, through Orlandi (43) and Woods, who made 90 before he was caught behind off the bowling of skipper Deepak Hasiza (2/33). This partnership provided the backbone of the innings, as Knebworth Park posted a respectable 199/8 from their 50 overs.
Hatfield & Crusaders made a poor start in reply, slipping to 16/2 in the fifth over. Yugal Kalaskar (26) and Rory Faraday (43) got the chase back on track with a belligerent partnership worth 67 in just 10 overs. Faraday found the boundary with regularity, striking six fours and a six in a quickfire innings.
Another collapse followed their departures, however, as Hatfield & Crusaders found themselves 126/7, confronted by an increasingly unlikely target. A remarkable partnership sealed the win, as Hasiza (42*) and Rory Golder (28*) added 46 runs unbeaten to see the side home. Golder even had the audacity to seal the victory with a six – not for the first time – as Hatfield & Crusaders won with 15 overs to spare.
A second straight victory moves Hatfield & Crusaders up to third position, just eight points off the promotion places.
There was similar excitement as the 2nd XI played host to Boxmoor at Ascots Lane. Having been put in by the visitors, Hatfield & Crusaders lost both openers cheaply with just four runs on the board. Yasir Shafi (35) produced a defiant innings, but played a lone hand as the rest of the middle order struggled against a disciplined bowling attack.
At 61/9 in the 29th over, the innings seemed unsalvageable. However, a vital last wicket stand worth 28 between Alan Jakes (18) and the ever-dependable Gareth Wynne (4*) took Hatfield & Crusaders to a total of 89, and a glimmer of hope.
With a low score to defend, Hatfield's bowlers had to combine a wicket-taking threat with economy. Both openers delivered in spades, as Jakes claimed 2/23 and Urvish Mistry bowled superbly for 5/26. The seamers were ably supported by the spin duo of Wynne (1/11) and Tony Jakes (2/14) who sealed a dramatic triumph as Boxmoor were bowled out for 86, by just three runs.
The 3rd XI were defeated by nine wickets by Stevenage V.
Reports For 10th August 2019
Hatfield & Crusaders bounced back from some indifferent form to seal a comfortable victory over Northwood Town at Ascots Lane.
In extremely blustery conditions, Hatfield & Crusaders fully capitalised on skipper Deepak Hasiza's decision to bowl first. While Ian Golder (0/32) kept things tight at one end, Sam Edge (3/18) bowled a hostile and probing spell from the other. Edge took full advantage of the strong breeze to emphatically strike the off-stump of Northwood Town's first three batsmen, and could have claimed even more than his eventual three wickets.
Although Modi (31) and Amish (24) combined to reach 71/3, Hatfield & Crusaders kept up the pressure in the middle overs through Aman Sofat (3/33) and Billy Bigley (3/28), to restrict the visitors to a low total. Andy Foster (1/7) also claimed a wicket, after a good catch by Hasiza, as Northwood Town were dismissed for a below-par 143
Hatfield & Crusaders got off to a flyer as Heath Bond made 11 from his first five balls, before gloving a short ball to the wicket-keeper from the impressive Mapara (3/44). Yugal Kalaskar (30) and Anil Madduri (24) recovered in style, however, as they combined for 61 runs in a brisk partnership.
Although both fell in quick succession with 60 runs still required, Billy Bigley (22) ensured there were no further alarms as Hatfield & Crusaders secured a six-wicket victory, with 24 overs remaining. This result sees the team retain fourth spot in Division 4A, and constitutes a welcome return to form after a run of losses and abandonments.
The 2nd XI also secured a welcome victory, in a rain-affected fixture at Watton-at-Stone. Having been inserted by the hosts, Hatfield & Crusaders lost two early wickets to slip to 2/2. Yasir Shafi (29) and skipper Leigh Parkhouse (46) combined for a valuable partnership to steady the ship, and reach 71/2 at the 20-over mark.
After a flurry of quick wickets reduced the side to 118/8, a remarkable ninth-wicket partnership between Keyur Mistry and Rory Gethin-Golder hauled the team to a more than respectable total, as they added 109 runs in just 12 overs. When rain brought the innings to a premature end, Mistry was 47* and Gethin-Golder had made 63* in a blistering innings containing 10 fours and a six.
Set the daunting target of 228 from 46 overs, a determined bowling display from Hatfield & Crusaders saw Watton-at-Stone fall 46 runs short. After Alan Jakes bowled a miserly opening spell – his nine overs included five maidens and yielded just seven runs – other bowlers took advantage of that pressure to chip away with valuable wickets.
Star batsman Gethin-Golder continued his fine match with 2/46, with other notable contributions from Keyur Mistry (2/36), Urvish Mistry (2/40) and Shafi (3/19).
There was also a success for the 3rd XI, who defeated Mill Hill Village III by 30 runs. Regular contributors Shivram Patneedi (80) and skipper Luke Jeffery (54) underpinned an impressive total of 205/9 from the allotted overs, before Clive Starr claimed three wickets to help restrict Mill Hill Village to 175 in reply.
Reports For 29th June 2019
Hatfield & Crusaders enjoyed another fruitful weekend, claiming three wins from four games in the Herts Cricket League.
The 1st XI extended their lead at the top of Division 4A, with a comfortable victory against Sandridge at Ascots Lane. Given the suddenly soaring temperatures, there was great relief when the visiting captain called incorrectly, and stand-in skipper Heath Bond elected to bat without any hesitation.
Yugal Kalaskar was adjudged LBW with the score on just 5, as Sandridge made an encouraging start. Lewis Wynne and Billy Bigley (25) re-built patiently, before Bigley was caught down the leg side with the score on 62 in the 13th over. This breakthrough prompted a flurry of quick wickets, as Hatfield & Crusaders slipped to 66/4 and 114/6, in the face of some disciplined medium pace bowling from Sandridge in the middle overs.
Wynne defied the extreme heat, however, and continued to bat with great style and determination. He reached his half-century in the 30th over, as a crucial partnership developed with Ian Golder (35). Wynne was particularly quick to punish any full deliveries outside the off stump, and found the cover boundary on multiple occasions. When Wynne was finally bowled for a valiant 75 in the 44th over, 89 runs had been added for the seventh wicket, and Hatfield & Crusaders were set for a competitive total.
A late flourish from Rory Golder (13*) and Gareth Wynne (10*) added 31 useful runs for the last wicket, as Hatfield & Crusaders closed on 237/9 from their 50 overs.
Opening bowlers Aman Sofat and Ian Golder (3/33) bowled with great discipline at the start of the Sandridge innings, to keep the run rate in check and increase the pressure on the batsmen. Between them, they bowled five maidens in miserly spells, as Golder trapped both openers LBW cheaply.
That pressure was maintained by both first-change bowlers as Rory Golder (1/12) and Bigley (whose ten-over spell included three wickets, four maidens and yielded just 20 runs) reduced Sandridge to 73/6. Gareth Wynne (2/41) also chipped in with a couple of wickets, before Sofat sealed the victory with a stunning one-handed catch off the bowling of Lewis Wynne, to cap an outstanding display. Hatfield & Crusaders won by 111 runs, and extended their lead in the division to 24 points.
The 2nd XI had a less successful outing, as they were defeated by seven wickets at Berkhamsted II. Despite the conditions, Berkhamsted elected to field first, and were immediately vindicated as Hatfield & Crusaders collapsed from 13/0 to 23/8. Some lower-order defiance from Tony Jakes (17) and Syam Chowdary (17*) saw the team to the relatively respectability of 71 all out. Mason claimed the remarkable figures of 10-7-3-3.
Despite taking three early wickets through Chowdary (1/12), Alan Jakes (1/24) and Andy Foster (1/29) that total was never going to be competitive, and Berkhamsted reached their target in the 19th over.
The 3rd XI secured their second win of the season with an impressive win over Hertingfordbury II. Having elected to bat, Hertingfordbury were bowled out for 133 in the final over of the innings. Wickets were shared between the bowlers, with notable performances from Atiq Khan (3/20) and Hari Rathakrishnan (3/18). Despite a belligerent start from Clive Starr (18), Hatfield & Crusaders were struggling at 94/7 shortly after the halfway point. 
Another excellent innings from acting captain Luke Jeffery (44*) – who got off the mark with a six – ably assisted by Rathakrishanan (14*), saw Hatfield & Crusaders home in the 31st over, with three wickets in hand.
The 4th XI moved up to fifth place in the league with an emphatic victory over Southgate Adelaide III at Roe Hill. Having restricted the visitors to 119 from their allotted overs, Hatfield & Crusaders made short work of their target, getting home four wickets down with almost 18 overs unused.
Reports For 15th June 2019
Hatfield & Crusaders enjoyed another successful round of fixtures, with wins for two teams (and a concession) and one solitary defeat.
The 1st XI moved to the summit of Herts Division 4A, with a fourth victory in five completed fixtures. In an extraordinarily low-scoring game Hatfield & Crusaders defeated a below-par Knebworth Park II by 6 wickets.
Knebworth reached 16 without loss in an uneventful start, as openers Ian Golder (0/17 from 8 overs) and Sam Edge kept things tight in the early stages. This sedate opening did not pre-empt the drama to follow, as Knebworth subsided to 45 all out. The collapse was started by a sharp run out from Ben Clark, before the bowlers got in on the act.
Edge claimed three quick wickets – including two in the same over – in a remarkable spell of 3/8 in seven overs, featuring three maidens. There was no let up from the first-change bowlers as Aman Sofat (3/4) and Rory Golder (3/14) dismissed the middle and lower orders respectively. No batsman reached double figures, and Hatfield & Crusaders yielded just 34 runs off the bat.
Faced with a low score, Hatfield & Crusaders were not unduly troubled, and reached their target in just the 14th over, with six wickets in hand. Opener Heath Bond made 19 in the only notable score. Hatfield & Crusaders next travel to Old Finchleians, who currently sit third in the league.
The 2nd XI slipped to a disappointing loss by four wickets against Boxmoor, in another low-scoring clash.
Having been asked to bat in demanding conditions, Hatfield & Crusaders could only muster 84. The sole notable partnership of the innings was between Yasir Shafi (16) and Keyur Mistry (21), who combined for 44 runs for the sixth wicket. When both fell in quick succession, however, the team fell short of setting a competitive score.
Boxmoor made a steady start in reply, almost reaching the halfway point before the first wicket fell. Although wickets fell regularly thereafter (through Alan Jakes (1/23), Shafi (1/23), Mistry (2/13) and Tony Jakes (1/12)), Boxmoor achieved their target with 20 overs remaining.
After a concession from the 3rd XI's opponents, the 4th XI claimed their third victory of a promising season, with a five-wicket triumph over Preston IV. A disciplined bowling performance restricted Preston to 120/7 from their 40 overs, as all bowlers made life difficult for the batsmen. There were two wickets apiece for Khan (2/19) and Hari (2/28).
Hatfield & Crusaders knocked off the runs required in the 28th over, largely thanks to 38 from Bhanu Prakash and 47 from Shivram Patneedi, who helped to seal a comfortable win.
Reports For 8th June 2019
Hatfield & Crusaders sealed an impressive win at Northwood Town to move up to third position in Division 4A of the Herts League, just six points behind the early pace-setters.
Hatfield & Crusaders were put under early pressure by the hosts, as they were put into bat before both openers fell cheaply. A sedate start to the innings was no indication of what was to follow, however, as Ben Clark and Rory Faraday combined for a 71-run partnership in just 9 overs.
Clark reached a fine half-century, featuring eight fours and a six, before he was caught for 56. Faraday continued undeterred, striking six sixes of his own, in a belligerent innings worth 69. Joined by the similarly powerful Heath Bond (36), another 73-run partnership took the side to 175/3 in the 31st over, and a huge total looked within reach.
Some quick wickets stemmed this momentum somewhat, as Northwood Town fought back. Sam Edge (23) added some late impetus, before Hatfield & Crusaders were bowled out for 256 at the end of the 46th over.
With a competitive total on the board, and the side's stronger suit to follow, Hatfield & Crusaders were confident of a win. This was achieved through another disciplined bowling and fielding display, as Northwood Town were dismissed for 166 in the 39thover, eventually falling 90 runs short.
Stand out performers with the ball were Edge (2/23), Ian Golder (4/35) and Andy Foster (3/25), who chipped in with wickets at regular intervals. The first nine batsmen were all out caught – including two catches apiece for Bond and Amit Shamal – reflecting the excellent all-round effort.
The 2nd XI slipped to a narrow defeat against Watton-at-Stone, in a close contest at Ascots Lane. A determined bowling performance restricted the visitors to 137 from their allotted overs, largely built around 46 from Williams. Openers Alan Jakes (3/46) and Harsan Pushparaja (whose 10 overs yielded 2/18) struck early to reduce Watton to 41/4 in the 11th over. Urvish Mistry (1/23) and Yasir Shafi (2/29) ensured there was no let-up, and at one stage Watton were teetering at 94/7. Although Tony Jakes (1/11) and Keyur Mistry (1/6) mopped up the final two wickets in quick succession, Watton's lower order had taken their total to 137.
Hatfield & Crusaders made a solid start in response to a low score, reaching 40/1 in the 12th over, before skipper Leigh Parkhouse fell for 15. The innings stuttered thereafter, as wickets fell at regular intervals, including the key man Shafi, who was caught for 26 to leave the side 89/7. Some defiant resistance from the lower order followed, reaching 130, before the last man fell with another eight runs required.
There was a better performance from the 3s, who defeated Mill Hill Village III by six wickets to seal their first win of the season. Wickets were shared between openers Syam Chowdary (2/10), Richard Brown (1/21) Shivram Patneedi (3/26), Clive Starr (1/44) and Harsha Chowdury (1/21), as Mill Hill Village could only muster 144 from their 40 overs.
Hatfield & Crusaders made light of an early wicket to chase this target with relative ease, winning with six wickets and more than five overs remaining. This batting performance was underpinned by 57 from Patneedi, ably supported by Jitesh Vin (32*)  and Harsha Chowdury (25).
The 4s were defeated by seven wickets away to Letchworth Garden City V. Hatfield & Crusaders were bowled out for 96, despite 26* from Deep Datta. Letchworth were always strong favourites, reaching their target with seven wickets to spare. Good spells from Max Oram (1/17) and Hari Krishna (2/31) were not enough to prevent defeat.
Reports For 1st June 2019
Hatfield & Crusaders endured a much less successful round of fixtures on Saturday 1 June, as all four sides were defeated.
The 1st XI fell 48 runs short in a high-scoring game at home to Old Haberdashers.
After winning the toss and electing to field, Hatfield & Crusaders were hoping for an early breakthrough. Despite an economical opening spell from Rory Golder (0/21), that did not materialise, as the Old Haberdashers openers made 80 apiece in a match-winning partnership. Although they were both dismissed by the impressive Gareth Wynne (2/32 from 10 overs), the damage was done and a platform had been laid for a significant total.
Ian Golder (1/48) and Billy Bigley (1/41) claimed a wicket apiece, but could not prevent Old Haberdashers compiling an imposing total of 258/5 from their 50 overs.
Hatfield & Crusaders opened with the aggressive pair of Heath Bond and Bigley, seeking a fast start in a daunting chase. Although the in-form Bond fell early, Bigley made 22 before he was caught off the bowling of Mehta (3/26). Anil Madduri (34) and Amit Singh (43) kept up the momentum with a purposeful partnership, reaching 150/4 at one stage. Skipper Deepak Hasiza (28) and Ian Golder (26*) provided some lower order resistance, but Hatfield & Crusaders fell short, closing the innings on 210/9.
The 2nd XI were comfortably beaten by Potters Bar III, succumbing by 112 runs.
After Pett and Rowlands had each made 80 for Potters Bar, the home side had amassed 251, before being bowled out in the final over. There were wickets for Harsan Pusparaja (5/51), Andy Foster (2/31), Alan Jakes (1/36) and Hari Rathakrishnan (1/14). After losing early wickets, a successful chase for Hatfield & Crusaders never seemed likely. Pusparaja and Rathakrishnan also stood out with the bat, contributing 30 and 25 respectively, before Hatfield & Crusaders were dismissed for 139.
Meanwhile there were narrower defeats for the 3rd XI – who lost a thrilling game to Datchworth III by 23 runs, and the 4th XIs, defeated by Ware II by 13 runs.
Despite conceding a similarly substantial target, the 3rds produced an excellent batting effort to fall narrowly short in an exciting finish. The star performer was Harsha Chowdary, who struck a flurry of boundaries and led a recovery from 112/7, before he was caught for an impressive 80. After he was the ninth man out, Hatfield & Crusaders were eventually bowled out for 219.
The 4th XI also came close to a successful run chase, largely thanks to 35 from skipper Raj Jakkapagol. Despite his best efforts, Hatfield & Crusaders were dismissed for 137 in a closely contested, low-scoring game.
Reports For 25th May 2019
Hatfield & Crusaders clinched a thrilling win against local rivals Hatfield Hyde, after an even and keenly contested match at Ascots Lane.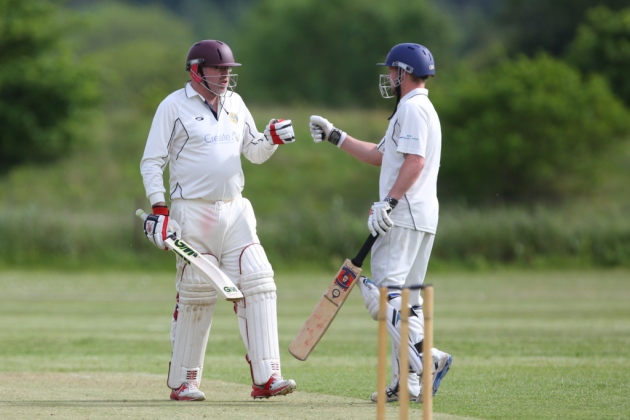 The win was sealed thanks to an unbeaten 19-run partnership for the last wicket between Aman Sofat and Gareth Wynne, who defied an impressive bowling attack and the gathering gloom to reach their target.
Earlier Hatfield & Crusaders had restricted Hyde to 148/9 from their 50 overs. Two early breakthroughs reduced Hyde to 1/2, as opening bowlers Sofat (3/29) and Sam Edge (1/23) gave little away in the early exchanges. That pressure was maintained through Ben Clark (1/21) and Billy Bigley, who claimed 3/19 through an unbroken 10-over spell which included five maidens.
Hatfield Hyde regrouped through skipper Miflan Mujreen (19), H Siddique (32) and Scott Davies (15) to reach 105/6 before Sofat returned to claim two further scalps in the middle order. A defiant last-wicket partnership between Jaward and Ismee bolstered Hyde's total, and set Hatfield & Crusaders 149 to win.
Hatfield & Crusaders made a similarly shaky start with the bat, as three early wickets fell to Mujreen (3/25) and Rajput (2/37). However, opener Heath Bond made light of the conditions to hold the innings together, initially supported by Yasir Shafi (13) and Aaron Foster (12), before another couple of quick wickets left Hatfield & Crusaders struggling on 98/7.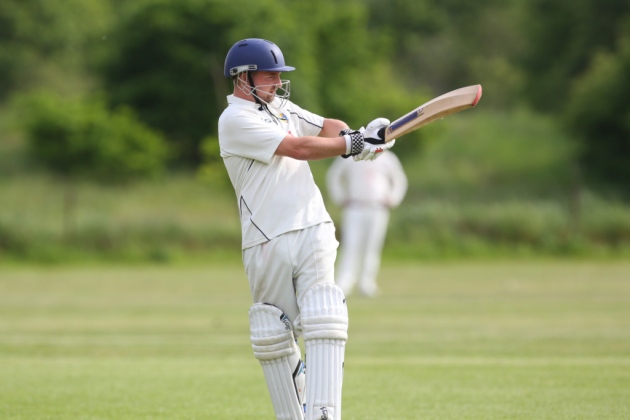 When Edge (15) was adjudged LBW after striking three fours in quick succession, all hopes rested with Bond. He continued to defy the Hyde attack, and reached an impressive half-century – his aggressive knock included six boundaries – before he was sharply run out by wicketkeeper Davies on 55, to leave the last-wicket pair with plenty to do. After a similar effort last season, Sofat and Wynne again rose to the occasion to seal the win for Hatfield & Crusaders.
The 2nd XI were defeated by 5 wickets at Old Elizabethans. Despite a promising start to their innings, Hatfield & Crusaders slipped from 72/2 to be dismissed for an under-par total of 135.
Barry Phillips (49) and Leigh Parkhouse (21) combined for a 52-run partnership to provide the platform for a competitive total, but Old Elizabethans produced a determined bowling effort to keep the score in check.
Despite inducing a similar collapse in the Old Elizabethans innings – from 32/0 to 59/5, Old Elizabethans rallied to reach their target with five wickets and plenty of overs to spare. Andy Foster claimed 4/30 and Alan Jakes 1/28, while Ben Pulham took two catches in the field.
The 3rd XI were also defeated by a narrow margin at Hitchin. An outstanding spell from opener Syam Chowdary (3/12 from eight overs) and a similarly economical effort from Bhanu Prakesh (1/18) restricted Hitchin to just 135 from their 40 allotted overs. Despite a determined knock of 24 from opener Luke Jeffery and some resistance from the lower order, Hatfield & Crusaders ultimately fell 14 runs short, bowled out for 121 in the 37th over.
There was better fortune for the 4th XI, who defeated Baldock III by seven wickets at Roe Hill after restricting the visitors to 58 all out. Wickets were shared around the bowlers, with a particularly noteworthy performance from Alan Dudman (2/11). Hatfield & Crusaders reached their target with little fuss, at 61/3 in the 13th over.
Reports For 18th May 2019
Hatfield & Crusaders' Division 4A campaign got off to a successful start on Saturday, as the 1st XI chased down a competitive target in a rain-affected game at Leverstock Green II.
Having lost the toss and been asked to field, Hatfield openers Aman Sofat and Sam Edge made early breakthroughs in probing opening spells (claiming 1/14 apiece). A fiery burst from Rory Golder (3/27) reduced Leverstock Green to 71/5, as he clean-bowled three of the middle order.
Although Gareth Wynne (1/28) produced a characteristically economical spell, Leverstock Green recovered to 150/6 after 41 overs, largely thanks to 69 not out from Iqbal.
After an extended interruption for rain, Hatfield & Crusaders made a rapid start to the chase through a quick fire 26 from Heath Bond, before he was bowled in the 9th over. Billy Bigley - who played some outstanding shots in a stylish innings worth 38 - and Matt Jennings (31) took the team to within 30 runs of the target before falling in quick succession. It was left to Edge (10*) and Ben Clark (10*) to see the team home with four wickets and almost 12 overs remaining.
Both the 2nd and 3rd XIs were the victims of concessions, as their respective opponents were unable to field a team.
The 4th XI, however, enjoyed an even contest against Broxbourne III, before it too was curtailed by the weather. Batting first, Hatfield & Crusaders posted a competitive 254/4, underpinned by a spectacular century from Yasir Shafi (105*), who combined for a partnership worth over 150 with Matt Welch (69).
Although Hatfield & Crusaders took five wickets in the first 20 overs of Broxbourne's reply - including 3 for Tony Jakes - Broxbourne were ahead of the run rate required when the rain came and no further play was possible. This was a disappointing result but an encouraging performance with a long season ahead.
Reports For 11th May 2019
Hatfield & Crusaders' season got off to a truncated start, as the 1st XI fixture was cancelled following heavy rain in the build-up to the game. The opening weekend was eventful nevertheless, as the 4th XI secured a thrilling victory over Little Berkhamsted Sahibs II. Over 500 runs were scored in 80 overs at Roe Hill, as Hatfield & Crusaders triumphed by 26 runs.
The undisputed player of the match was Shiva, who contributed a remarkable 129 not out from no. 7, to help Hatfield & Crusaders recover from 39/3 and 170/9 to post a more than competitive 269/9 from their 40 overs. The last wicket partnership yielded 99 runs in just 9 overs, as Shiva struck 13 fours and 9 sixes in a club record individual score.
Little Berkhamsted Sahibs produced a respectable chase, build around an unbeaten 94 in the lower middle order. However, they ultimately fell narrowly short, closing on 243/7. Hatfield & Crusaders shared the wickets around, with two wickets apiece from Hari and Roj in a disciplined bowling effort.
The 2nd and 3rd XIs both made disappointing starts to the season, as below-par batting totals were successfully chased down with 6 wickets to spare by Radlett IV and St Margaretsbury III, respectively. A defiant 40 from Rory Faraday provided the backbone of the 2nd XIs 124 all out, while Ben Pulham claimed two sharp catches in the field.
Luke Jeffery (21) and Clive Starr (25) were the main contributors for the 3rd XI with the bat, and Atiq Kahn finished with 2/33, as St Margaretsbury reached their target with five overs remaining.
Pre-Season Report 2019
Derby day just one part of an eagerly-anticipated season for Hatfield & Crusaders
It's not often you get to walk to an away game but that is what an excited Hatfield & Crusaders are looking forward to doing when they look horns with neighbours Hatfield Hyde.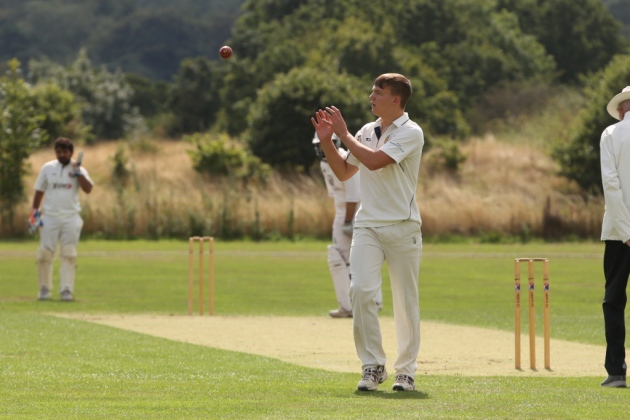 Google maps says the distance is a mere 880 yards or not far off a well-hit six away. And following their promotion last year, those two fixtures are the ones exciting folks down at Ascots Lane.
Matt Jennings said: "Consolidation in Division 4A is the hope but it promises to be an exciting season that includes the fixtures against Hatfield Hyde.
"The winter has gone well, with the majority of last season's players still at the club, and several former players have come back to bolster the ranks. "That will make the competition for places fierce."
Deepak Hasiza is charged with picking and leading the first team this year and the reliable spin-bowling all-rounder has a number of talented youngsters at his disposal as well as the boosted ranks of experienced players.
Jennings said: "Two very promising young players came to the fore last year with 200 runs and 20 wickets apiece.
"Sam Edge is just 16 but he became a dependable and penetrative new-ball bowler and contributed regularly with the bat.
"Ben Clark also made an impressive step up to being a first-team regular with accurate swing and seam bowling and determined lower-middle order batting.
"That included a fine half-century in the title-clinching game away to St Albans." Lower down the club and off the pitch there is plenty to get excited about too for the friendly and ever-growing club.
Jennings added: "The seconds will be keen to build on a strong finish last year and keep a strong core of players together and both the thirds and fourths enjoyed some notable successes.
"We are also targeting another strong performance in the county T20 competition after reaching and hosting a successful finals day last summer where we were only defeated in the final by a strong St Albans outfit."
Off the field the social side is booming too, with many events organised in the refurbished clubhouse throughout the year for players and non-players alike. The big match against Hatfield Hyde on May 25 is then just one of many exciting times ahead.