Reprts for 16th June
Hatfield & Crusaders 188-9, Holtwhites Trinibis II 192-6
Hatfield & Crusaders succumbed to a first defeat of the season, losing a tight contest to an impressive Holtwhites Trinibis II side.
The hosts made a strong start after skipper Gareth Wynne had elected to bat first on an excellent wicket at Ascots Lane. Openers Yugal Kalaskar (16) and Anil Madduri (24) put away any loose deliveries to race to 34 without loss in the 8th over. Both fell in quick succession, however, and it was left to Amit Singh (14) and Deepak Hasiza (22) to rebuild in the middle overs. Both batsmen were dismissed, thanks to some skilful bowling and sharp fielding respectively, and Hatfield & Crusaders were struggling at 94/6.
Ben Clark (20) and Sam Edge salvaged the innings with a composed 51-run partnership, calmly rotating the strike and running purposefully between the wickets. Although Clark was caught smartly to break the stand, Edge continued undeterred to register an impressive half-century. He was eventually run out for 53 – including seven boundaries - after attempting a selfless second run. A couple of lusty blows from Aman Sofat (12) saw Hatfield & Crusaders reach 188/9 from their 50 overs. Bonner and Tarling were the pick of the bowlers for Holtwhites.
A disciplined start from openers Edge (0/10) and Rory Gethin-Golder (2/20), aided by a reflex catch by Preet Singh, saw Holtwhites lose early wickets and fall behind the required run rate. When opener Garnsworthy was bowled by Amit Singh (2/29) for a well-compiled 26, Holtwhites were 66/4 in the 22nd over. Sofat (1/33) also bowled an accurate spell, including three maidens in his opening salvo of seven overs. Although Hatfield & Crusaders continued to fight hard in the field, and acquired some late hope after a breakthrough by Clark (1/24), defiant innings from Tarling (51*) and Bonner (43) saw Holtwhites to their target with four wickets and just over four overs remaining.
Hatfield remain in the promotion places in Division 5A, just one point behind leaders Watford Town II.
The 2nds fell agonisingly short in a high-scoring contest at Boxmoor, after a determined display with a depleted side. Boxmoor posted an imposing score of 275/8 from their allotted overs, thanks in no small part to 100 from number 6 Pimm. Alan Jakes, Asif Ghafoor and Alex Digby claimed two wickets apiece.
Shorn of talented all-rounder Joe Bigley with injury, Hatfield produced a great effort in response. Openers Mark Collins (28) and Ghafoor (24) combined for 68 in 13 overs to get the run chase off to the strong start required. Although the side faltered to 126/6, a succession of resolute partnerships from the lower middle order ensured a thrilling conclusion. There were many contributors, including Ian Golder (29), Hari Rathakrishnan (20), Alex Digby (31) and top-scorer Jakes (37), as Hatfield & Crusaders were eventually dismissed for 241 in the 45th over.
An excellent display from Clive Starr was insufficient to prevent the 3rds being defeated by four wickets at Hoddesdon. The all-rounder contributed a belligerent 32 in a total of 126 all out, before claiming 2/21 with the ball. Economical bowling spells from Max Oram (1/24), Syam Chowdary (1/28) and Keyur Mistry (1/27) were thwarted, as Hoddesdon IV reached their target with eight overs remaining.
---
Reports for 9th June
Hatfield & Crusaders 224-9, London Colney 204
The 1st XI maintained their excellent form, edging out London Colney in a tight encounter to extend their winning run to five matches.  
Skipper Gareth Wynne won the toss, and requested first use of what appeared an excellent batting track. Despite the early loss of both openers, Preet Singh (who cleared the ropes twice in a counter-attacking 45) and Kunal Shah (35) re-built steadily, combining for a 70-run partnership in 14 overs.  
Although London Colney made another couple of quick breakthroughs to stem the scoring rate, a patient knock from Amit Singh (35), allied to useful contributions from the lower order saw the side reach 224/9 from their 50 overs. Yugal Kalaskar and Rory Gethin-Golder both made 16, and Sam Edge finished 14 not out.  
London Colney performed well in pursuit of an imposing total. Although four out of the top five made 30 or more to put Hatfield & Crusaders under pressure, the visitors produced a determined bowling and fielding display to chip away with wickets at regular intervals.  
The bowlers rotated well, with wickets claimed by Gethin-Golder (2/34), Edge (1/37), Ben Clark (1/54) Amit Singh (2/26) and Preet Singh (3/32), to ensure that London Colney were bowled out for 204, falling 20 runs short.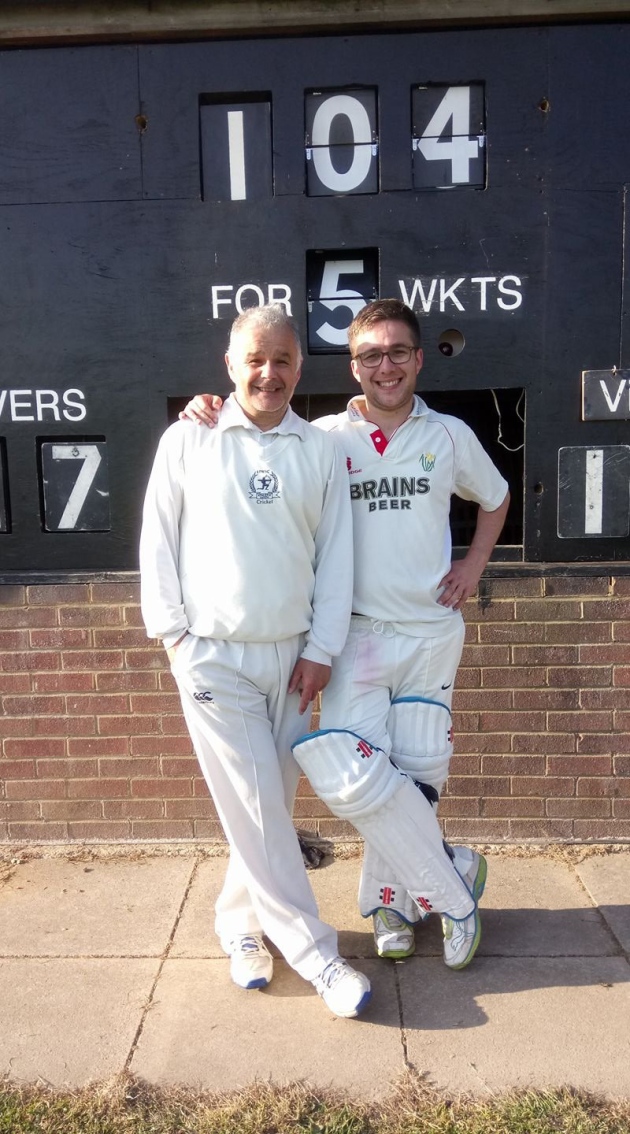 The 2nds moved up to mid-table in Division 6B, with a second consecutive win, as Bushey II visited Ascots Lane. After choosing to bat, the visitors made 151, before being bowled out in the 42nd over. The bowlers combined effectively in economical spells, and wickets were shared between Ian Golder (2), Joe Bigley (2) and Andy Foster (3). An impressive effort in the field, including three run outs, was perhaps best encapsulated by an excellent catch in the slips from Alex Digby to dismiss Bushey's best player.
Golder struck an excellent 64 in response, providing the backbone to a successful run chase. With contributions from all batsmen, Hatfield & Crusaders ultimately reached their target with three wickets and 12 overs remaining.  
The 3rds bounced back well from defeat last week, with a comfortable 52-run win over Hertingfordbury II. Hatfield & Crusaders recovered from 52/8 to post 102, as Colin Jeffery (24) was ably supported by the lower order in two crucial partnerships to reach a competitive total. Ravi Lavu and Bikku Vamsi both added 15 runs apiece.  
A relentless effort with the ball ensured that Hertingfordbury were never likely to reach their target. No bowler went for more than 2 runs per over, as they all claimed valuable scalps. Openers Bikku Vamsi (5/15) and Max Oram (1/7) both bowled miserly 8-over spells, before Syam Chowdary (2/9) and Ravi Lavu (2/10) claimed the final wickets to dismiss Hertingfordbury for 54.
---
Reports for 2nd / 3rd June
Hatfield & Crusaders 180-9, Waltham X Rosedale 92
A highly successful weekend for Hatfield & Crusaders saw the teams secure five victories from the six fixtures contested.  
The 1st XI extended their good run of form with a fourth consecutive win, maintaining a 15-point lead at the top of Division 5A after a hard-fought victory over Waltham Cross Rosedale. After skipper Gareth Wynne won the toss and elected to bat in sweltering conditions, Hatfield & Crusaders capitalised by reaching 50 without loss in the 16th over. Openers Heath Bond (24) and Yugal Kalaskar (20) defied disciplined opening spells before three wickets fell in quick succession.  
Despite composed innings from Swetang Khambhatwala (17), Ben Clark (15) and Deepak Hasiza (15) wickets fell at regular intervals, and the side were struggling at 126/9. Faced with the prospect of a below-par total on a good pitch, last pair Aman Sofat (27*) and Wynne (8*) combined for a remarkable 54-run partnership for the last wicket, ensuring the side reached a competitive 180/9 from their 50 overs. The aggregate total of 51 extras, including 36 wides, played no small part.  
Sam Edge struck characteristically early, claiming the first wicket in his opening over. Although Waltham Cross rebuilt, reaching 40 without further alarm, the run rate was always kept in check, before a flurry of quick wickets broke the backbone of the innings. Aman Sofat (3/14) continued his outstanding match in tandem with Amit Singh (1/20) as Waltham Cross were reduced to 49/5. A spectacular, diving catch from Chandan Rao at short mid-wicket sealed the crucial wicket of top-scorer Sritharan for 20.   Spin twins Hasiza (2/12) and Wynne (3/8) ensured there was no respite for the batsmen, as Hatfield & Crusaders ultimately bowled out their opponents for 92 to secure a comfortable 88-run win.  
An improved performance from the 2nd XI ensured a first victory of the season in Division 6B, at Bovingdon. Having been invited to field, Hatfield & Crusaders struck early through opening bowlers Ian Golder (3/25) and Joe Bigley (2/26), thanks to a couple of smart catches by wicketkeeper Keven Whitehead.   Although Bovingdon were struggling at 34/5 in the 14th over, and 82/8 in the 26th, a combative half-century from Stickland (53) and a defiant last-wicket partnership saw them post 121 all out. Alan Jakes (2/23), Andy Foster (1/22) and Tony Jakes (1/6) claimed the remaining wickets, including an excellent running catch from the agile Golder.  
Hatfield made a swift start in response, reaching 50 without loss in the 10th over, before Matt Jennings departed for a streaky 38. Barry Phillips produced a typically resolute innings, contributing 36 including a huge six over long-on. Notwithstanding a brief wobble with 20 runs required, the target was ultimately reached with five wickets and more than 19 overs remaining.  
The 3rd XI suffered defeat for the first time this season, succumbing to St Margaretsbury III by 89 runs. After an opening partnership worth 88 for St Margaretsbury, a determined fielding display saw Hatfield claim the final 10 wickets for 67 runs. Wickets were shared between Syam Chowdary (4/20), Abhishek Mankar (2/33), Asif Ghafoor (2/22) and Chandan Mahanthesh (2/27). That was not replicated with the bat, however, as the side were bowled out for 66.  
Conversely, the 4th XI won for the first time this year, after successfully defending 97 against Northwood IV at Roe Hill. Remarkably miserly bowling spells from Ravi Lavu (3/9), Raj Jakkappagol (1/12) and Nilesh Vaghadia (1/3), each of eight overs, saw Northwood fall 13 runs short, reaching 84/9.  
Impressive performances continued into a T20 double header on Sunday. Hatfield & Crusaders hosted a strong Stevenage side at Ascots Lane, and ultimately triumphed in a thrilling contest. Stevenage won the toss and posted 153 from their 20 overs, with half-centuries from Mahmood (51) and Davies (59*). An excellent fielding display, epitomised by a direct hit run out by Rory Gethin-Golder, supported the bowlers well as wickets were shared between Ian Golder (1/27), Sam Edge (1/32), Ben Clark (1/37) and Alan Jakes (1/6).  
Hatfield & Crusaders made a strong start in response to a demanding total, as Heath Bond struck 9 boundaries in a belligerent half-century. After he fell for a quick-fire 55 – made from just 39 deliveries – the side were 90/4, with a further 64 runs required from the seven overs remaining. Sam Edge and Amit Singh were initially forced to play sensibly against some impressive bowling, leaving an imposing 44 runs needed with just 18 balls in hand. A staggering display of hitting from Singh – who struck 4 enormous sixes in making an unbeaten 46 from 22 balls – saw the side home from the final ball. It was an impeccably timed chase, as Edge added a composed 21* whilst Singh sealed the win at the death with his 12th consecutive scoring shot.
---
Reports for 26th May
Hertford III 155, Hatfield & Crusaders 156-6
Hatfield & Crusaders are the sole leaders in Herts Division 5A after a third straight win in three completed fixtures. The side defeated a competitive Hertford III side to maintain an excellent start to the season.
After losing the toss for the first time this year, Hatfield & Crusaders started well in the field as Sam Edge (4/35) dismissed both openers with the new ball. Although three Hertford batsmen reached 20, disciplined bowling from Amit Singh (0/32), Deepak Hasiza (1/40) and skipper Gareth Wynne (3/24) ensured that no substantial partnerships formed and the run rate was kept in check.
The team, depleted after an early injury, were determined in the field, and produced a number of smart catches. Preet Singh (2/22) claimed the final two wickets as Hertford were bowled out for 155 in the 49th over.
Despite suffering an early wobble as two batsmen fell without scoring, Hatfield & Crusaders recovered thanks to two characteristically belligerent innings. Opener Heath Bond made a brisk 34, with eight powerful boundaries before being the third man out with the score on 48. He was ably supported by Amit Singh (68*), who continued his remarkable run of form with another half-century, including 10 fours and a six.
Swetang Khambhatwala kept up the pressure on the bowlers with a quickfire 24 including two sixes of his own. Although two wickets fell with the finishing line in sight, Hasiza (13*) kept Singh company to see the team reach their target with four wickets and 17 overs in hand.
The 2nds fared less well, as they succumbed to a six-wicket defeat to Allenburys & County Hall II at Ascots Lane. Although Joe Bigley top-scored with 31 on his return from injury, and Keven Whitehead made 25, a score of 131 all out was some way under par. Alan Jakes claimed two wickets, but Allenburys reached their target with 13 overs remaining.
The 3rds won their second game in a row, as they moved up to 2nd place in their division. An excellent team bowling performance saw the wickets shared by Max Oram (2/12), Ravi Lavu (3/17), Syam Chowdary (2/18) and Leigh Parkhouse (2/16), while the reliable Clive Starr secured three catches. Following a similar pattern to last week, Hatfield & Crusaders reached their target easily, with skipper Parkhouse top-scoring with 20 out of 86/4.
The 4ths were defeated by 72 runs, at Rickmansworth IV, despite another excellent bowling performance from Nilesh Vaghadia, who claimed five wickets for the second game in a row.
---
Reports for 19th May
Hatfield & Crusaders 266-5, Watford Town II 217
Hatfield & Crusaders maintained their strong start to the cricket season, with another impressive win over Watford Town II on
Saturday taking them joint top of Division 5A. Skipper Gareth Wynne won the toss and elected to bat in glorious sunshine, in a marked contrast to last week's abandonment.
he side produced an excellent team performance, with every batsman contributing at least 20 in a competitive total of 266/5 from their 50 overs. Openers Yugal Kalaskar (36) and Heath Bond (26) combined for a fluent 85-run partnership for the first wicket, before falling in quick succession. That merely heralded the arrival of the middle order, who maintained the innings' impetus. The outstanding Amit Singh (82*) provided the backbone to the innings, with able support provided by Chandan Rao (20), Preet Singh (22) and Lewis Wynne (22). Singh took the attack to the bowlers, striking 7 fours and a six in a characteristically belligerent innings which continued his impressive form.
The strong collective effort continued in the field, as opening bowlers Sam Edge (2/59) and Aman Sofat prevented Watford Town from making a fast start. That pressure was maintained by Amit Singh (1/44), Deepak Hasiza (1/32) and Gareth Wynne (3/36) who claimed wickets at regular intervals to dent Watford's hopes of an unlikely run chase. A determined fielding performance, best exemplified by two superb run outs and a calm catch under pressure from Ben Clark, ensured that Hatfield & Crusaders ran out the victors by 49 runs, dismissing Watford Town II for 217 in 45 overs.
The 2nds slipped to a 55-run defeat to Hemel Hempstead Town III at Ascots Lane. Hemel Hempstead batted first, and reached 229/8 from their 50 overs with some powerful late hitting, despite good spells from the returning Andy Foster (2/26), Tony Jakes (3/25) and Swetang Khambatwala (2/43). Hatfield & Crusaders made a strong start as openers Anil Madduri (38) and Barry Phillips (14) contributed 51 before the first wicket fell. However, some disciplined bowling saw the side slip to 107/5 in the 35th over, with the target looking increasing remote. Despite defiant knocks from Khambatwala (28) and Amit Shamal (39), Hatfield & Crusaders were ultimately all out for 174 in the 45th over.
 
The 3rds won for the first time this season, securing an emphatic seven-wicket victory over Hitchin IV. Hitchin were bowled out for just 63, with Chandan Mahanthesh and Asif Ghafoor claiming three wickets apiece. Hatfield & Crusaders raced to their target in the 15th over, as Ben Pulham made 30*.
---
Reports for 5th May
Preston II 133, Hatfield & Crusaders 134-8
Hatfield & Crusaders Cricket Club made a winning start to their Division 5A campaign, claiming a narrow win aw
ay to Preston II. Fine performances from two young all-rounders set up the victory, heralding a great deal of promise for the season to come.
After the visitors won the toss and elected to field under the auspices of new captain Gareth Wynne, Sam Edge (4/38) made a flying start, dismissing each of Preston's top 4 within the first 12 overs, before the score had reached 30. Combined with economical spells from Sean Edge (0/17), Deepak Hasiza and Ben Clark (both 1/14), Preston struggled to rebuild and reached 71/8 after 30 overs. Despite the dogged resistance of Catlin (44*) and Mercer (29), Hatfield & Crusaders eventually dismissed Preston for 133, with Amit Singh (2/25) and Gareth Wynne (2/11) claiming the final wickets.
The run chase was not straightforward, as Hatfield & Crusaders slipped to 25/4 in the 11th over. Lewis Wynne (18) and Hasiza (29) restored some stability, before another flurry of wickets saw the team 82/7, with another 52 runs required. With the pressure on and the result in the balance, impressively mature innings from Clark (35) and Sam Edge (15*) saw the team home with two wickets remaining. The 1s play their first home game next week, as they host Ickleford II.
The 2nds succumbed to defeat to Abbots Langley II at Ascots Lane. A disciplined bowling performance saw the visitors dismissed for 130, with Ian Golder claiming 4/17 from his 10 overs, and Tony Jakes chipping in with 3/16. A flurry of early wickets left the team on 15/5, with a daunting chase in prospect. Although Barry Phillips contributed a defiant 29* from no. 3, the side ultimately fell 46 runs short, as they were bowled out for 84.
The 4ths were defeated by Potten End II by 6 wickets, after the 3rds' opponents conceded their fixture.
---
Reports for 22nd April
Hatfield & Crusaders 135-5, Stevenage 119-8 (T20)
Hatfield & Crusaders Cricket Club got their competitive season off to a winning start with a comfortable 16-run victory over a strong Stevenage side in the Sunday T20 Cup. Led by the charismatic Alex Digby, an impressive team performance provided considerable encouragement for the new campaign.
Hatfield & Crusaders lost the toss and were asked to bat first at Ditchmore Lane. Heath Bond defied any early season rustiness with a fluent 40 in a fast start for the visitors, who brought up their 50 in the 7th over. Stevenage fought back, claiming opener Leigh Parkhouse for a useful 15 to prompt a middle order wobble. At 74/5 with six overs remaining, Hatfield & Crusaders were some way short of a par score. However, this was to reckon without stand-out performer Amit Singh, whose 44 (made from 29 deliveries) included three sixes and propelled the side to a respectable 135/5 from their 20 overs. Spinner Davies impressed for Stevenage with 3/13 from his four overs.
A disciplined start from opening bowlers Rory Gethin-Golder and Ian Golder (0/20 and 2/13 from their four-over spells respectively) saw Stevenage fall behind the required rate, and never recover. Hayward (37) provided some resistance until he was smartly caught by Gethin-Golder off the bowling of Preet Singh (2/17). Tidy spells from Deepak Hasiza (1/35) and Amit Singh (1/24), allied to some good fielding, ensured that late boundaries for Stevenage were to no avail, and Hatfield & Crusaders ran out comfortable victors.
The League season gets underway on 5th May, with all four Saturday sides in action.